Practice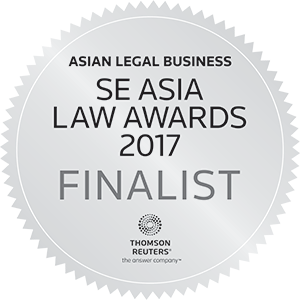 Wilbur's wide practice includes commercial and construction litigation and arbitration. He also handles a range of criminal and matrimonial matters. Wilbur's clients consist of individuals and large corporations, including foreign listed company with annual turnover of approximately USD$1 billion. Wilbur also teaches Construction Law at the Singapore Management University's School of Law as an Adjunct Faculty.
He is one of the youngest lawyers in Singapore to be selected as a finalist for the prestigious ALB's South East Asia Young Lawyer of the Year Award. Wilbur is humbled to be shortlisted as one of the few Singapore lawyers for the award. The selection places both Wilbur and WMH Law Corporation on the regional radar in recognition of the outstanding work and services rendered.
Wilbur is also the youngest lawyer in Singapore to be selected for the Asia's "40 under 40 lawyers" list published by ALB in 2017. The coveted list showcases the top 40 outstanding lawyers in Asia under the age of 40, based on their deals and disputes handled, as well as accolades from peers and clients. In particular, Wilbur was lauded for his "remarkable strategies" and "sound guidance" that help clients save on legal costs.
In addition to the above, Wilbur was also appointed as a committee member to the Law Reform Committee - Building and Construction Law Subcommittee in 2018. The role of the committee is to examine how the laws governing the industry could be reformed, taking into account the latest developments.
Having graduated amongst the top in his law school with Highest Honours, Summa Cum Laude (First Class Honours), Wilbur commenced his practice at a Singapore Big Four law firm. He was heavily involved in arbitration, litigation, and construction adjudication during his years in the firm.
Wilbur applies a hands-on attitude towards all areas in his wide practice. He will guide his clients through every step of the process to ensure that they are placed in optimal positions.
In relation to his diversified criminal law practice, Wilbur is the lead counsel for matters including but not limited to (i) criminal breach of trust; (ii) voluntarily causing hurt or grievous hurt; (iii) drug trafficking and consumption; (iv) robbery; (v) theft; (vi) house breaking; (vii) rioting; and (viii) sexual offences.
Wilbur also sat as a member in the Law Society's Advocacy Committee, Criminal Legal Aid Scheme Committee, and Small Firms Committee.
An active volunteer, Wilbur enjoys taking up pro bono cases for the underprivileged to give them their day in court. He is presently on the panel of solicitors for both the Legal Aid Bureau and Criminal Legal Aid Scheme. Wilbur is also on the lead lawyer panel for Criminal Legal Aid Scheme, a panel consisting of experienced practitioners in criminal law.
Education
Wilbur graduated amongst the top in his law school, obtaining the highest honours, summa cum laude (First Class Honours). Besides being placed on the Dean's List for four consecutive years, Wilbur's stellar academic performance also bagged him awards including but not limited to the Michael Hwang Prize for the Top Student in International Arbitration and the Top Student for Property Law. He had also represented his law school in the prestigious International Commercial Court Mediation Competition held in Paris, further reinforcing his belief in the effectiveness of alternative dispute resolution mechanisms.
Client Accolades
"Wilbur is a lawyer who listens attentively. He provides remarkable strategies, works on time, and is always available to discuss. His sound guidance also helps us save on legal costs. Further, Wilbur conveys his advice in a simple and logical manner. I can also feel his passion towards his job. I am delighted to have him as our lawyer."
"Mr. Wilbur Lim is very responsible. With a wealth of experience in his field, he was quick-witted and helped us tremendously to the success of our case. Our company is very grateful to have such a top-notch lawyer."
"I was fortunate to be introduced to WMH Law Corporation's Mr. Wilbur Lim. Mr. Lim handled my appeal to the High Court efficiently and promptly. My ex-husband's appeal was dismissed by the High Court eventually."
"Wilbur's sincere advice, quick preparation of legal documents and speedy responses even after working hours, together with his concern for my well being, have managed to resolve the years of issues that I had with my business partners. I am very happy that I have engaged him as my lawyer."
Memberships
Adjunct Faculty of Law – Singapore Management University's School of Law
Committee Member – Singapore Law Commission Building and Construction Law Reform Subcommittee
Member – Law Society of Singapore
Member – Singapore Academy of Law
Advocate and Solicitor – Supreme Court of Singapore
Panel Solicitor – Legal Aid Bureau
Panel Solicitor – Criminal Legal Aid Scheme
Lead Lawyer Panel – Criminal Legal Aid Scheme
Committee Member – Law Society's Advocacy Committee 2017
Committee Member – Law Society's Small Firm Committee 2017
Committee Member – Law Society's Criminal Legal Aid Scheme Committee 2017